I am throwing down with you RIGHT! NOW!
Thanks to my darling new NuvaRing, I am on day FIFTEEN of my super special girly time. Yay laser ring!
I have seen my entire rotation of monthly underwear. Not, of course, the kinky fuckery, lacy pretty stuff for show and moan, but the … other stuff.
I'm here to tell ya. Screw all of that. I'm putting my foot down … or whatever. I'm rotating the ugly to the trash can. I'm so over it. Wedgie-wear? Gone. NO LONGER WHITE (you KNOW what I mean, girlfriends) GONE! If it isn't in good condition and pretty – it's outta here. I have a bathroom trashcan full of cast offs.
Even my beloved Panty by Post, I think, are just about done. Which makes me sad. Rather, it did, till I read their blog and there is a week's work of Panty Makeover Posts. Now I feel EVEN BETTER about my cleaning out the drawers drawer. Also – grateful I don't have Natalie Grunberg looking through my stuff. Oh the shame. (Also, thank you Zoeyjane for hooking me up with THAT fabulousness pre Chicago 2008.)
my pretties in a fresher, pinker, day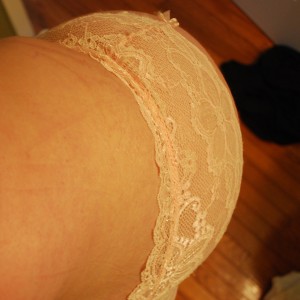 Now YOU. Go do it. NOW. GET RID OF THE TIRED, THE POOR, THE STAINED MASSES OF FUGLY UNDIES, YEARNING FOR A LANDFILL.
YOU HEAR THAT! A LANDFILL! YOUR HOGGY HOGGY VADGE DESERVES WAY BETTER THAN LANDFILL LINGERIE!
Go throw that ugly OUT and then get yourself something NEW and CLEAN and COMFY or PRETTY or something BETTER!!!!
*edit* BLACK UNDERS … think about it….